Debbie Lallathin Grueninger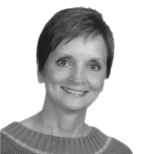 "My mother has always been my inspiration for taking risks and accepting challenges. Because of her example, I felt I could accomplish anything."
Debbie moved to Glendale in 1982, and her contributions since then have spanned business, education, community and elected service. While married to the late Stan Grueninger, she was the general manager of the Grueninger Oldsmobile GMC dealership. In 1986, after graduating from General Motors Institute, serving on the Oldsmobile Marketing Group and founding the GMC Truck Marketing Group, she succeeded her husband as owner of the local dealership.
In 1988, as a part-time student at the University of Cincinnati, Debbie founded the UC College of Business Non-Traditional Students organization to provide resources and support for others like her who worked full time and had families depending upon them. She graduated summa cum laude in 1991. Later, she earned a masters in Special Education and is an elementary school intervention specialist today.
Debbie has been a long time leader in the Habitat for Humanity community, serving as President of the Millcreek Valley chapter and a leader in the Southwest Ohio Northern Kentucky Habitat Foundation. She headed a Habitat anniversary celebration overseeing the building of a home in five days. She was the President of the Glendale Chamber of Commerce and the Woodlawn Chamber of Commerce.
She was appointed to Glendale Village Council in 1999 and then elected to serve for the next 14 years. In that time, she led various committees and initiatives including work to protect the green space and to revise the Long-Range Comprehensive Plan for the Village.
In collaboration with Police Chief Dave Warman, Debbie helped establish the Glendale Adopt-a-Family program that provides gifts for needy families at Christmas. She also served as Glendale's Vice Mayor for two years.