In 2005, Glendale revealed 25 five-feet tall fiberglass squirrels as part of its sesquicentennial celebration. Today, 13 of those squirrels remain on public view. This map, edited from the original, and the listing of squirrels provides a guide to viewing the remaining squirrels of the "Glendale Squirrelly Gig."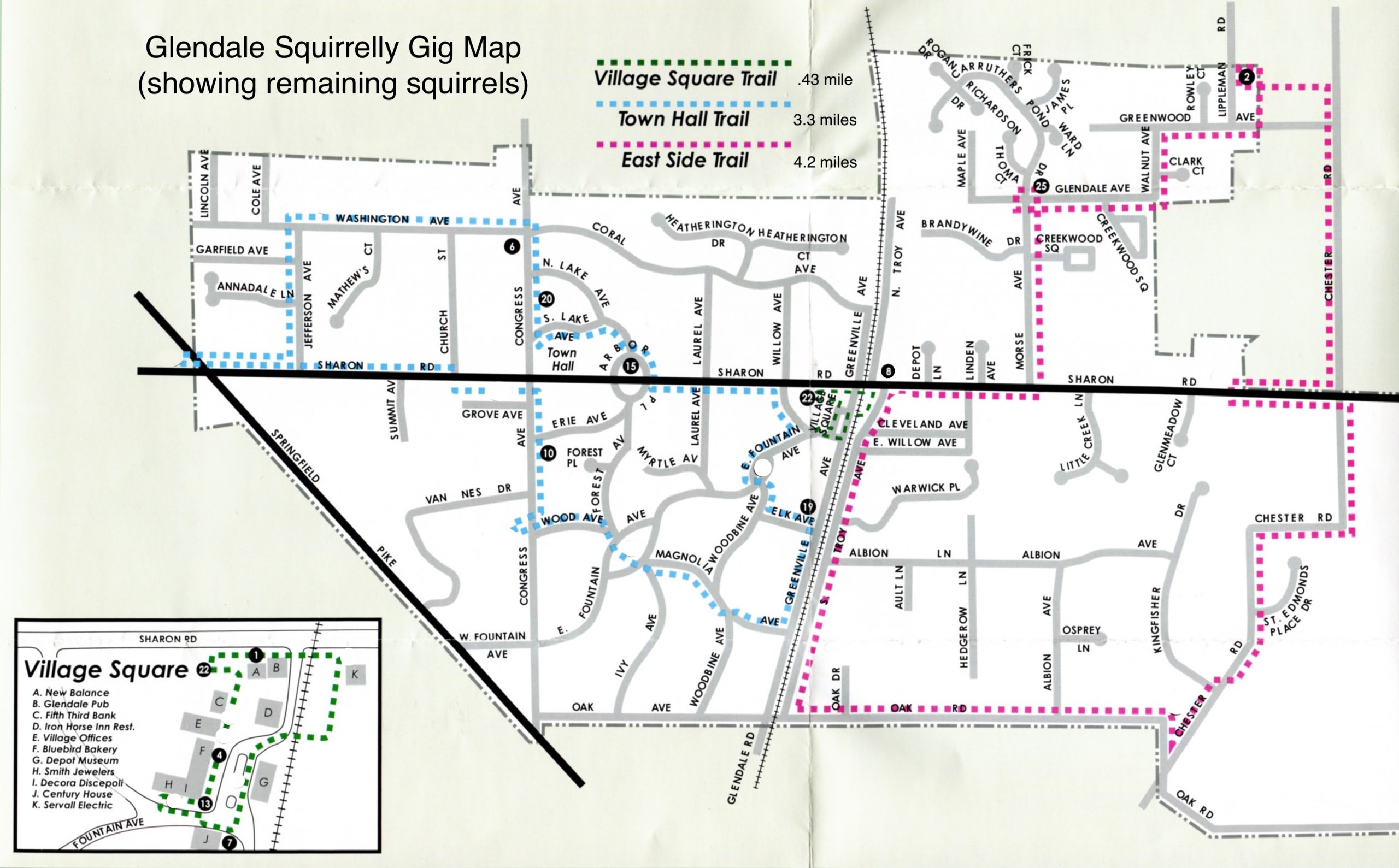 The location of the remaining 13 squirrels are identified on this map by their number, along with the three trails used to view the original 25 squirrels.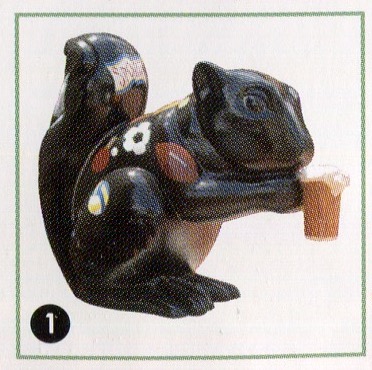 Sport!
Repainted as a Beefeater, the squirrel is located at The Cock and Bull Pub, upstairs on the deck.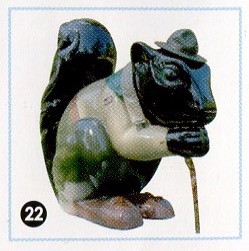 Scout Fosdick
Located on the Harry Whiting Brown Community House lawn opposite the Scout House.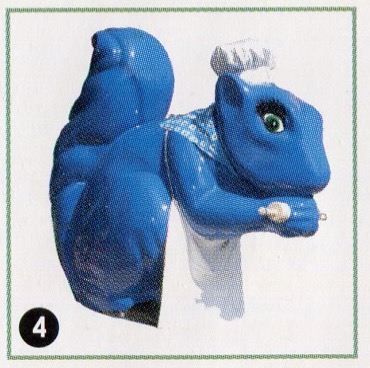 Bluebird Bakery
Located outside the Bluebird Bakery on the Village Square.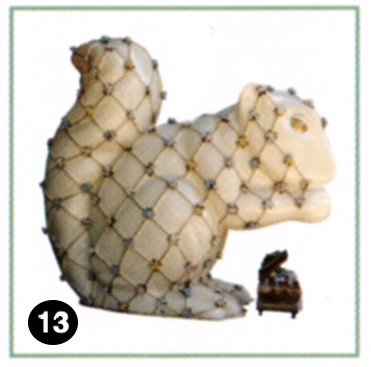 Faberge Fosdick
Originally located outside Smith Jewelers but now relocated to the southwest corner of the Village Square.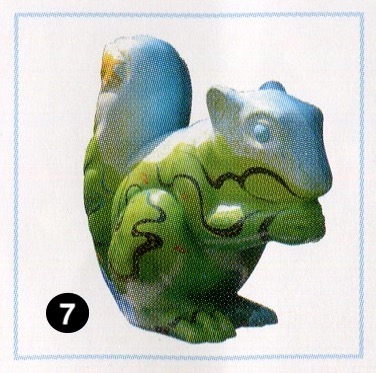 The Open Road Squirrel
Located at the junction of Greenville and Fountain Ave. on the southeast edge of the Village Square.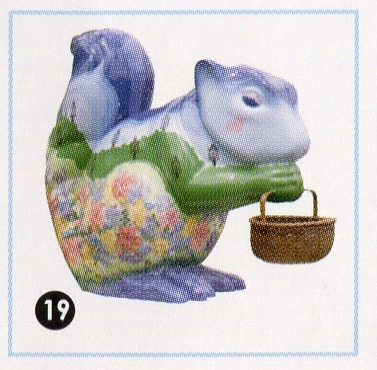 Twinkleberry Glentale
Located at the junction of Greenville and Elk Ave.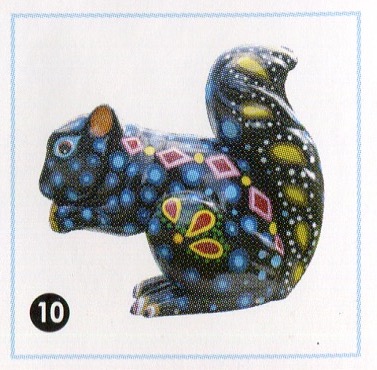 Paco
Located on Congress Ave. outside the Glendale Elementary School.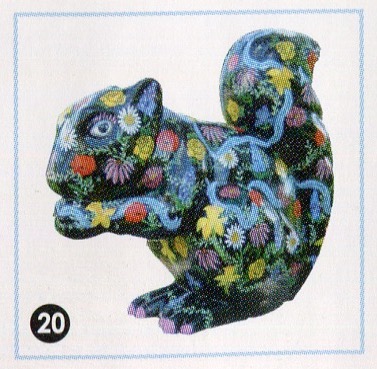 Flower Power
Located on Congress Ave. at Carruthers Park.
I. C. Clearlynow
Located at Congress and Washington Ave. Repainted as a squirrel skeleton to reflect the adjacent business: Glendale Family Chiropractic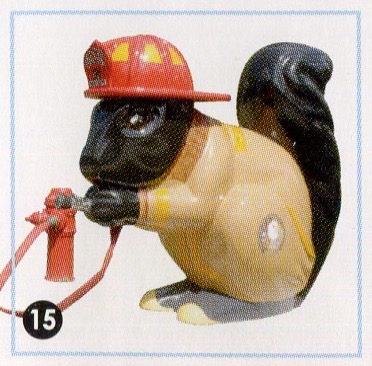 Scrappy Fritz Kloth
Located on Sharon Ave. outside the Town Hall.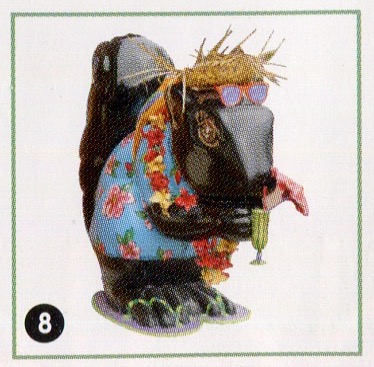 Retire In Style
Originally located outside the bank in the Village Square. Now relocated to the forecourt of the UDF on Sharon Ave.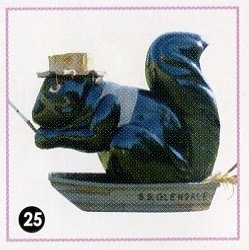 Fosdick at the Pond
Located at the entrance to Carruthers Pond Drive.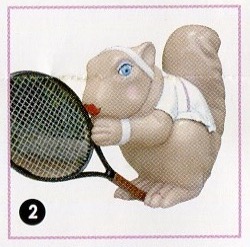 Drop Shot
Located at the entrance to the Queen City Racquet Club building on Chester Rd.