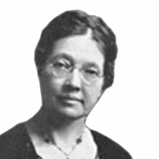 Louise Cherry Robb
1874 – 1966
Louise Cherry Robb was the first female principal of Glendale High School.
The daughter of a Presbyterian minister, she was born in Colorado, lived as a child in Knoxboro, NY, and spent part of her early teaching career in Kansas City. Her credentials were outstanding—with a bachelor's degree from the University of Chicago and graduate study at Columbia and Oxford Universities.
Louise joined the faculty of the Glendale High School as a teacher of English and Latin in 1917, and she served both as a teacher and principal until her retirement in 1945.
According to the Glendale centennial book, "It was in recognition of the tremendous contribution which she made to the public schools during her tenure that the Louise Cherry Robb Educational Loan Fund was started."
A Glendale Educational Fund had been formed in 1937, but even before this, Louise had informally assisted some students in going to college.
Louise's community activities included serving as a longtime member of The Glendale Monday Class, an elder in the First Presbyterian Church in Glendale and a board member of the Harry Whiting Brown Community House.