Margaret Ault Shardelow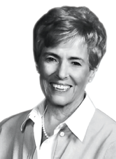 "I've always been drawn to community work. My parents made service a core family value, so you could say it's in my DNA."
Peggy Shardelow has been part of the very fiber of the Glendale fabric for eight decades. She attended Glendale School, and then went on to Hillsdale School (now Seven Hills) where she graduated. She met William Shardelow, or "Duff," at Miami University after transferring from Skidmore College in New York. They were married in 1955, and raised three children who attended Glendale Elementary School and graduated from Princeton High School.
She was one of the founders of Glendale Youth Sports, which was formed in 1954 to make sure that all Glendale children have the opportunity to play in an organized team sports program, regardless of their level of talent. Peg served on the group's board for more than 20 years and was secretary/treasurer for 17 years. She was also the first woman to manage an A-level team.
Peg served as President of the Princeton Board of Education and Director of the Princeton Museum of Education. In 1983, she was elected the first woman president of the Glendale Lyceum since 1907, and she served as a member of the organization's Board of Directors for another six years.
She represented the Cincinnati Junior League on the governing board of Youth Employment Service, Citizens Committee on Youth, and created the organization's training manual for girls interested in babysitting.
Since 1993, Peg has served as a Trustee, President and Officer of Glendale Heritage Preservation, and in 1996 she was a Project Manager for the complete renovation of the historic railroad depot.
Peg also created Glendale Heritage Preservation's famous "welcome bag" program for new residents. In addition, she developed the multimedia exhibit at Glendale Heritage Preservation Museum that commemorated the 150th year of Christ Church Glendale, where she has been a lifelong member and serves on the Altar Guild.
Peg was named Trustee Emerita of Glendale Heritage Preservation in 2019.