The GHP Museum and Gift Shop
44 Village Square
Open September- May: Saturdays 11 am to 3 pm, June-August: Thursdays 4 pm to 8 pm and Saturdays 11 am to 3 pm.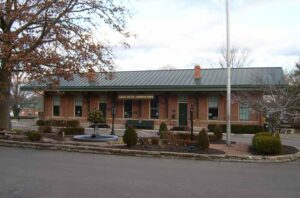 Operated by the Glendale Heritage Preservation, the Museum is housed in the former Cincinnati, Hamilton & Dayton Railroad Depot built in 1880 to replace the original 1854 wooden structure which was leveled by fire. The Village of Glendale and GHP volunteers spent tens of thousands of dollars and thousands of man-hours to restore the depot. It opened as the GHP Museum in May of 1997.
Get a grasp on local history. Come inside and view our displays, which change 3 to 4 times a year. Watch our quick video and learn why Glendale is a historic landmark. Then grab a copy of our Walking Tour through Historic Glendale and take a stroll back in time to the Victorian era with large houses and traffic-free streets lined with ancient trees. When you're finished, stop back in our Black Squirrel Gift Shop to meet our friendly volunteers and find unique gift items.
---
Mission Statement
An all-volunteer organization, Glendale Heritage Preservation exists to preserve, protect and educate about the legacy, traditions, history, images and customs that combine to make our village unique.
Enjoying all the Village Offers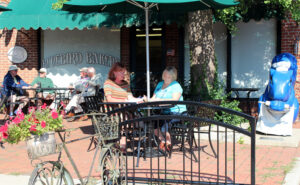 Self-Guided Tours – The book Glendale's Heritage contains several walking tour maps of various areas in the Historic District. The maps are accompanied by photographs and comments of the tour's points of interest. The book may be found in various shops in the village.
Distinctive Dining – You can dine the year round in the 19th century charm of two unique gourmet restaurants, one of which is situated in an inn that has offered its hospitality since 1850.
Leisurely Shopping – Sophisticated tastes are catered to by Village shops offering the unusual in gift ideas, foods, craft supplies, furnishings, apparel, antiques, and art. The yesterday atmosphere of the Village shopping areas is due to friendly proprietors and quaint old shops and their sometimes not-so-obvious locations.
Unusual Services – Certain hilly streets are closed after a snowfall to provide safe places for sledding, while a Village snowplow keeps the sidewalks and public footpaths clear. A weekly rubbish pickup schedule is augmented by an autumn leaf disposal scheme.
Special Events – The annual Memorial Day parade includes members of local government and organizations, and a chance to see some of the many vintage vehicles in Glendale. Following the parade, the residents gather at the Town Hall for patriotic speeches, music, and to hear once again, movingly read aloud, the names of those villagers who gave their lives for their country. Village streets are ablaze with American flags on national holidays, and in early Autumn, the Annual Street Fair becomes one great party for local businesses, residents, and visitors. During the holiday season, windows are atwinkle with Christmas lights, and prizes are given for the best front door decorations.
Church and Social Life – There are seven churches serving the Village, and most of them have existed more than a century. A senior citizen's group meets at the Town Hall and dramatic organizations give performances regularly in the Village.
---
Fulfilling Your Special Interests
The Village of Glendale is proud to share with…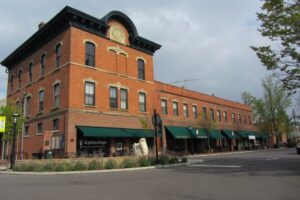 Preservationists of the historic atmosphere characteristic of over 400 original houses and other buildings well over a century old.
Historians of a 140 year history beginning with the cultural and industrial expansion of the Cincinnati area before the Civil War.
Gardeners who provide the opportunity to work with four respected garden clubs in maintaining the Village Square, the parks, and greenbelt.
Artists and Photographers who depict the curving streets and sun-dappled Victorian houses in leafy settings, the railroad station, and the steeples with their true beauty.
Seekers of Peace and Quiet who find the more than 600 acres of forested oasis away from the surrounding commercial and industrial hustle and bustle a haven serenely contrasting with nearby treeless tract developments.
You, the villager or visitor who find Glendale the perfect place to relax in the calm and peaceful setting.
---
Glendale Heritage Preservation Officers and Trustees
Founder
Officers
Dr. James Brewer, President
Carolyn Beaugrand, Vice President
Martin Sinnott, Vice President
Helene Sedwick, Treasurer
Jill Beitz, Secretary
Trustees
Maureen Base-Smith
Roxann Dieffenbach
Joe Dubinski
Michelle G. Evans
Nancy Floyd
Peter Galbraith
Joanne Goode
Doreen D. Gove
Mary Lofty
Nancy Macenko
Rob Morgan
Carol Mantz
Jane Pratt
Bev Rieckhoff
Judy Skyllingstad
Carl Stritzel
Beth Sullebarger
Susan Swaine
Rebecca Terrell
Jim Wesselman
Trustees Emeriti
Addison Clipson
Howard Constable
Peg Shardelow
Chairs
Archivist: Joanne Goode
Gift Shop Manager: Bev Rieckhoff
Newsletter Editor: Martin Sinnott
New Resident: Mary Lofty
Museum Staff: Roxann Dieffenbach 
House Plaques: Joe Dubinski
Membership: Carolyn Beaugrand