Martha Livingston Burchenal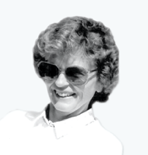 Martha Burchenal, or "Toone" as she is better known, was born in Hendersonville, NC. In 1959, she married Ralph Burchenal, the son of fourth-generation Glendalians, and moved to the Village.
In the early years, she focused on their family of three boys and was involved in numerous Glendale community groups. In 1982, she was elected the first woman to serve as Chairperson of the Board of Trustees of Southwestern Senior Services, Inc., now Maple Knoll Village.
Under her leadership, Maple Knoll Village formed the Gerontology Institute to improve the quality of long-term care by developing an education, training and research environment for residents, personnel and the community. Maple Knoll was also established as a teaching nursing home, one of 11 in the country at the time. Toone also directed the formation of the Maple Knoll art lending library and the pet therapy program.