Jane Hamilton Garvin
1923 – 2015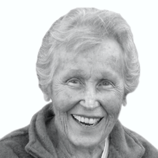 "Good nutrition is essential to good health."
Jane Garvin moved to Glendale in 1945 when she married Hugh Garvin, Jr. They raised their three children in the Garvin family home on Ivy Avenue.
A gifted educator, Jane was Associate Professor and head of the Food and Nutrition Division of the University of Cincinnati College of Education and Home Economics (now Allied Health Sciences).
Jane was a leader in the field of nutritional science. In the 1970s, she carried out some of the earliest and most important work on preventive nutrition.
She studied nutrition's vital role in human health and development and in the protection from diseases and environmental toxins. Her work helped identify the link between malnutrition and income, cooking skills and facilities. She went on to influence the development of a comprehensive health plan for Ohio that created statewide nutrition policies.
Jane served as a delegate for the American Dietetic Association, Co-founder and Chairman of the Greater Cincinnati Nutrition Council, and a leader in the American and Ohio Dietetic Associations and Nutrition Council.